Carden Holiday Cottages
The Old Steading
Tel: 07831935568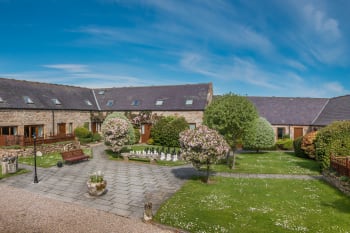 Carden Cottages are located in an area of outstanding natural beauty surrounded by magnificent beaches, rambling forest walks and cycle trails, ancient castles and historic sites in the heart of Moray. There are almost limitless leisure opportunities that include stalking and hunting, shooting, fishing, walking, cycling and golf. In this landscape of rushing rivers, ancient lochs and miles of empty golden beaches, you will have the chance to catch sight of eagles and hunting birds flying overhead whilst the seas around us offer glimpses of playful seals, leaping dolphins and even feeding whales. With a wide range of accommodation suitable for everything from a romantic Christmas getaway through to a great family centered holiday, Carden Cottages, which are wonderfully positioned for exploring all that this beautiful area of Scotland has to offer, are the perfect choice.
Availability
There are no rooms available at Carden Holiday Cottages
for these dates.
Please try other dates or select a
different property
.
cottages
Facilities
TV/DVD
Games room - Pool, Table Tennis, Table Games
Tennis Court
Miles of beaches only 5 minutes away
Forest walks and cycle trails only 5 minutes away
Children's Playground
Disabled Access
Garden For Residents' Use
Payphones
Shop (nearby)
Terrace
Wi-Fi
Bar (nearby)
BBQ Facilities
Café / Restaurant (nearby)
Golf Course (nearby)
Cycling
Hiking
Policies
Check In: Between 16:00 and 20:00
Check Out: Between 7:00 and 10:00
Wi-fi: Wireless internet is available and is free of charge.
Smoking: There is no smoking permitted anywhere within the property.
Parking: Parking for all guests is available on site and is free of charge.


Children: Children of all ages are welcome.
Pets: Pets are not allowed.
Groups: No stag and hen groups.
Average
4.9
out of 5
52 reviews
100% recommend
Reviews
17th October 2021:

The accommodation was exceptionally clean and well presented. Our expectations were exceeded. Paul (the host owner) was very helpful and very welcoming and certainly a 10/10 for service.
Tips:
The facilities in The Stables are very good and we ended up eating in for the majority of our stay. Our family live in Kinloss so the accommodation was perfectly situated as it was only a 10 minute drive to their house. We had a couple of great meals at the Captains Table, a beachside restaurant at Findhorn which is about 15 mins from the property. Alves is a great base to explore this area of Scotland. We will definitely be back!
Would Recommend: Yes
17th October 2021:

The cottages are ideally situated for either a quiet holiday or for touring. They are comfortable and kept very clean. All amenities are there and as I had two teenage grandchildren with us there was a games room which they enjoyed. Paul was very friendly and helpful and provided extra little touches that made us feel very welcome. Highly recommended by the 7 of us who has a pleasant stay.
Tips:
Plenty of restaurants around including Brewers Fayre, Red Lion, and indian restaurants. Visiting many coastal villages which was a delight.
Would Recommend: Yes
13th October 2021:

Beautiful place, well equipped for all your needs… we will definitely be back!
Would Recommend: Yes
26th September 2021:

Would Recommend: Yes
19th September 2021:

Total chill out experience and relaxing outlook from garden in Bothy flat. Would recommend this flat to friends and family with no hesitation. The staff were very friendly, helpful and approachable.
Tips:
All around the coast East Coast Trail is a must. Beautiful scenery and lovely villages to visit. Forres is a must to visit with beautiful gardens and flower sculptures.
Would Recommend: Yes
27th July 2021:

Carden Cottages are clean, comfortable and ideally situated just off the A96 just outside Elgin, but within surrounding farmland where you often see deer, pheasants etc. Paul and Debbie are ideal hosts where nothing is too much for them and always warm and welcoming. We have been returned to Carden time and time again and consider it our second home.
Would Recommend: Yes
23rd July 2021:

Great location, excellent facilities and Paul was a most attentive host
Tips:
Many historical venues to see n distilleries to visit both local n the surrounding area.
Would Recommend: Yes
21st July 2021:

Comfortable very well equipped cottage. Really enjoyed the setting. The only one thing to comment on would be the addition of a soap dish/tray/shelf in the shower.
Tips:
Logie Farm Steading is worth a visit, nice food in their cafe. Also the Dipsy Teacup and the Thai Restuarant (Pattaya) in Elgin.
Would Recommend: Yes
15th July 2021:

The cottage was warm, spacious and very well equipped. The bed was super comfortable. It was a very peaceful spot and it was possible to take short walks from the cottage. The surrounding area held a wealth of things to do.
Tips:
We walked a lot of the cliff path between Burghead and Lossiemouth, and found these walks spectacular.
Would Recommend: Yes
1st November 2020:

Very comfortable accommodation with lovely views over to the Moray Firth. The apartment is spacious with excellent facilities, being only a short distance from Forres it is easy to shop and stock up for your stay.
Tips:
There are many walks just a short distance from the cottage, we particularly liked Hopeman beach where you can have a dip if you are feeling adventurous or a walk along the many trails on offer, it is a perfect place to view the dolphins as they pass on their way up the coast.
Would Recommend: Yes
3rd September 2020:

Would Recommend: Yes
27th August 2020:

Very comfortable cosy and exceptionally well equipped accommodation. Plenty of natural light and lovely outlook. Management very responsive to request for moth repellent after I spotted a few of them flying around in the bedroom. We will be back!
Tips:
Sunninghiall Hotel in Elgin a good place to eat and the Sundancer on the beach at Nairn is even better. Best mussels we have ever had.
Would Recommend: Yes
18th August 2020:

Everything necessary provided to create a wonderful and relaxing holiday break.
Tips:
Visit all locations on the coast from Fort George to Cullen to enjoy the full experience.
Would Recommend: Yes
18th August 2020:

Very well appointed cottage in stunning location overlooking the Moray Firth and Black Isle. Enjoyed the garden and beautiful sunsets. Paul was very helpful in explaining the measures they were taking to make sure the cottages were thoroughly cleaned between guests to minimise risk of spreading the virus. Small repairs reported were dealt with very promptly and successfully. Would highly recommend these cottages as a base for exploring this beautiful part of Scotland.
Tips:
Very close to the Moray Firth coastal road- so great for visiting Burghead, Hopeman and Lossiemouth. Recommend Harbour Lights in Lossie for breakfast/lunch/dinner. Johnstone's of Elgin for shopping and coffee/lunch; the Walled Garden at Gordon Castle nr Fochabers for coffee and snacks; Cullen for the best Cullen Skink you'll ever have; the Kimberley in Findhorn for langoustine freshly caught in Burghead that day; Sun Dancer and The Classtoom in Nairn for eating; enjoy spectacular views over the Moray Firth from viewpoint at nearby Califer; visit Portknockie to see the amazing Bow and Fiddle rock; Knockando woollen mill visitor centre; walk or cycle the Speside Way - enjoy refreshments at Fresh in Aberlour; climb Ben Rinnes; visit numerous distilleries in the area; visit the Abbey at Pluscarden
Would Recommend: Yes
16th August 2020:

Excellent !
Would Recommend: Yes
11th August 2020:

A great service right from the first telephone enquiry. Was a bit confused when arrived as to how to meet with the owner but I realised that he had left a note with my name in the accommodation window and the cottage was open. A really spotless cottage with subtle music playing in the background, a great welcome after a long journey
Tips:
Lots of little fishing villages to visit and the location makes it easy enough to visit the west coast so you can see a lot of Scotland from this location.
Would Recommend: Yes
25th July 2020:

Light airy cottage. Spacious and tranquil. Very well equipped. Sunsets from the living room were beautiful.
Tips:
Ideal for visiting the Moray Firth and the Black Isle. Fabulous coastal walks, gardens, quaint villages. Wildlife in abundance. Dolphins, seals, deer, hares..... The perfect location.
Would Recommend: Yes
25th July 2020:

Excellent accommodation lovely cottage would recommend a stay here. Brilliant!
Would Recommend: Yes
15th March 2020:

Great cottage with everything you need for a fabulous stay. All pot, pans and crockery are a high standard. All you need is your food and you're good to go. The cottage was clean and spacious And the views and wildlife are fabulous Easy to find the cottages and wonderfully quiet and safe. The supermarket was only a 5 min drive away. Within easy drive of all that Elgin and Lossiemouth have to offer
Would Recommend: Yes
3rd November 2019:

Great place to stay,
Tips:
Get out and explore
Would Recommend: Yes
23rd September 2019:

Secluded, Spacious, Deluxe holiday cottages, fully self contained, with quality fittings and furnishings. Great hosts, friendly and accomodating
Tips:
Great location near Elgin. Ideal for visits to the coast or following 'The Whisky Trail'
Would Recommend: Yes
21st August 2019:

Very comfortable, well appointed and spacious accommodation in a great location.
Would Recommend: Yes
17th August 2019:

Wonderful holiday homes, we love the Mill House. We live in a busy Italian city and this is one of the best places for our family to relax and enjoy the Scottish atmosphere. Paul is very helpful and kind, a great host.
Tips:
Elgin is very near and there are many good restaurants and shops. This year we discovered some lovely scones and cakes at Ditsy Teacup.
Would Recommend: Yes
13th August 2019:

Down a long drive away from a main road we found the cottages to be very quiet and restful. Everything you needed for your stay was provided.
Tips:
The City of Elgin was only 4 miles away. The city had everything you required i.e. Supermarkets, Railway Station e.c.t. The coast was quite close, about 15 mins. by car
Would Recommend: Yes
27th July 2019:

Would Recommend: Yes
9th June 2019:

We had a really lovely stay - thanks! We loved the walk down to the lake, and using the games room. The DVD player gave us a little trouble - might be worth checking - but we did get it to work in the end.
Would Recommend: Yes
6th June 2019:

You provided everything we needed to make our first visit to this area a memorable one. The cottage was clean, comfortable and well equipped. The scones and other goodies were much appreciated. We were warmly welcomed by Paul who was a mine of local information. He spent quite some time with us, despite the fact he was going on holiday himself. A lovely place to stay. Look out for Bert & Betty, the Oystercatchers and their nest in the courtyard.
Tips:
Go to the Whale and Dolphin Centre at Spey Bay and wait for the dolphins to pass by. Magical!
Would Recommend: Yes
20th April 2019:

Paul was amazing Got us a lovely welcome gift which after the 10 hour drive was bliss even got us a bottle of champers for our honeymoon and let us take our tortoise
Tips:
Lots to do around the area they left you a brochure with places to visit We chose to do the below Elgin town centre 15mins away Elgin Cathedral 15mins away Duffus Castle 15mins away Hope Beach 15mins away Spey Bay and the Dolphin Centre 30 mins away
Would Recommend: Yes
15th October 2018:

We had such a lovely stay in the Bothy. Very toddler friendly for our 16 month old. Would definitely recommend for families with babies or for disabled travellers requiring wheelchair access. Enclosed garden for little one to run around, lovely big bedroom (and bed!), super clean and very well equipped. Large bathroom AND shower room were a welcome surprise. A very warm welcome from our host Paul. Fantastic stay, thank you!
Would Recommend: Yes
11th September 2018:

Very friendly host. Clean and big appartment
Tips:
Dunnottar Castle Inverness
Would Recommend: Yes
22nd August 2018:

Very clean and comfortable, very well appointed with all the facilities and mod-cons you could want. Had a very interesting conversation with Paul (the host) about the local history.
Tips:
Visit the Scottish Dolphin Centre at Spey Bay. Good restaurants in Elgin, particularly the Drouthy Cobbler and Ada Turkish restaurant.
Would Recommend: Yes
15th August 2018:

Everything was excellent. The flat was spotlessly clean and extremely well-equipped.
Tips:
Carden Cottages is well-placed for anyone wanting to visit Elgin, Nairn or (for slightly longer drives) Inverness.
Would Recommend: Yes
14th August 2018:

Would Recommend: Yes
25th July 2018:

First class lovely little house and lots to do
Would Recommend: Yes
17th July 2018:

Very spacious accommodation in the one bedroom Bothy, great having an en suite as well as a shower room.
Would Recommend: Yes
27th November 2017:

This stay was booked via myself for some electrical contractors- however I know they were delighted with the accommodation and have extended further into this week. Thank you !
Would Recommend: Yes
Owner Response:
Thank you so much for your feedback and I'm pleased your teams enjoyed their stay with us. It will be lovely to welcome them back again at some time in the future. Paul
2nd September 2017:

Lovely views from the cottages and really helpful to have to have the games room although it did need a bit of a clean when we visited, but we were a bit early. The cottages were most suitable for our party as there was ample space and the disability cottage was great for my mother.
Tips:
lovely rural setting. Lots of shops and supermarkets at Elgin - Asda deliver. You do need really your own transport but great beaches locally - saw lots of Dolphins at Burghead, maybe we were lucky. Grant's whisky tour is just £5 and they have a lovely garden to explore too.
Would Recommend: Yes
Owner Response:
Thank you for your lovely review and yes by arriving so very early you did catch our cleaning teams in the middle of their work but it's good to hear how much you enjoyed your stay at our steading. If we can help you again at any time, please let us know. Paul and Debbie
23rd August 2017:

read my ticks
Tips:
too many to mention
Would Recommend: Yes
Owner Response:
Thank you for your lovely review and if we can help you again in the future please let me know. Paul
6th July 2017:

The location of the Steading is superb and the Byre was comfortable and well equipped for two people.
Tips:
The best places we found to eat was the Mossett Arms in Forres and the Rockpool Cafe at Buckie. Both can be busy and booking ahead is a good idea. The Crown and Anchor at Findhorn is in a class of its own, the staff are quirky and can appear a bit off hand, but the sense of humour comes through and the food is good. The exhibition of photographs of local life in the Tolbooth in the High Street was very good and the volunteers were friendly and knowledgeable.
Would Recommend: Yes
11th June 2017:

Paul and Debbie go out of their way to make you welcome and comfortable during your stay at Carden. The cottages are spotlessly clean, comfortable, well equipped and in lovely surroundings, which is why we return time and again.
Would Recommend: Yes
5th June 2017:

All 5s. Do you need any other comment?
Tips:
It's an individual thing - my wife and I sometimes do different things.
Would Recommend: Yes
26th March 2017:

Would Recommend: Yes
28th November 2016:

We could not fault anything about the cottage. The heating was excellent and Paul the owner even left us a box of chocolates and flowers.
Tips:
Walk along beach from Roseisle to Burghead which is three miles each way. The Bothy in Burghead is very good for food,then walk through the caravan site and return to Roseisle via the Forest. Excellent walk. Forres and Findhorn are worth a visit too.
Would Recommend: Yes
30th August 2015:

Paul and Debbie very nice people property very clean and fully equipped.
Tips:
sunninghill hotel in Elgin food excellent also whisky trail.
Would Recommend: Yes
Owner Response:
Debbie and I are so pleased you enjoyed your stay with us and we hope to see you again at some time in the future. Thank you Paul :)
28th July 2015:

Two small remarks -the smoke alarm in the kitchen is too sensitive. Went of when we made toast. -the kitchen knifes were not sharp. But overall we enjoyed the stay very much!
Tips:
Dunnotar castle and the birdcolonie nearby. The walk up Ben Rinnes
Would Recommend: Yes
Owner Response:
Well although there isn't too much I can do about the smoke detector without compromising the safety of our guests, I can make sure the knives are resharpened immediately. Thank you so much for letting me know and I do hope we can welcome you back again at some time in the future. Paul :)
4th November 2014:

The Barn worked very well for 4 people. We enjoyed our stay.Perhaps the only thing lacking is a better set of kitchen knives.
Would Recommend: Yes
Owner Response:
That's a very good point and one I will act upon immediately. I'm looking at a Sabatier set with wooden handles and an electric knife sharpener in each cottage. Thanks for mentioning it. Paul p.s. perhaps you can try them out the next time you are in the U.K.
10th August 2014:

We both enjoyed our second visit and would recommend it for people with disabilites as there is ample room in the two units provided.
Tips:
Logie steadings south of forres and the harbour at lossiemouth. Whisky railway trip between keith and dufftown
Would Recommend: Yes
Owner Response:
Thank you so much for your feedback and both Debbie and I are really pleased you enjoyed staying with us. I do hope you will join us again the next time you visit this area. Paul & Debbie
23rd July 2014:

Would Recommend: Yes
Owner Response:
Thank you for your feedback. It's good to know that you enjoyed you stay with us and we do hope you will come back again some time. Paul & Debbie
4th May 2014:

A very relaxing and comfortable stay at Carden Cottages. Cottage very well equipped - especially in the kitchen. Lovely garden to sit in overlooking beautiful scenery. A small down side to the garden is that the patio needed weeded and also the flower beds.
Would Recommend: Yes
Owner Response:
Thank you for your feedback and I can confirm that not only was the patio immediately weeded, but all the flower beds were completely replaced with beautiful bedding plants and new floral tubs were planted up and placed by all the entry doors. Once the bedding plants in the tubs have finished, we plan to replace them with a range of scented herbs that our guests are welcome to use in the kitchens. I do hope you will join us again at some time in the future. Paul & Debbie
21st April 2014:

We were very lucky and appreciated the fact that not many other people were there. It made our stay feel like the place was ours - so we enjoyed the place so much. The owners were very friendly and discrete. the finishing welcome touches were fantastic - felt very much like home from home - wish we had the view. everyone loved the Barn and other cottages. It made our special event 'perfect'.
Tips:
More walking brochures - Ben Rinnes for the fit ones and Bennachie are both good walks and not too far from the area. The Hopeman - Burghead coastal path is now tarmaced so is gentle for some folk who cant walk hills. will definately take my mum on that walk with her in the wheelchair next time we are up. Let folk know they need £1 coins for the pool table - we didnt have that many on arrival but its not a big deal. The Wifi didnt work well at all in the Barn - but i think that worked well for us in the end as we would have only been tempted to log into work emails. The Quismat is fantastic and very popular. we bought a takeaway but had to pick up as its £10 for delivery - not worth the added cost being so near. Food was lovely. Piers cafe Findhorn - definately a must visit. Robbie and the team are great and the menu / venue is stunning looking over the Bay. Loads of walks in area - would be good to have brochures on these as it helps folk feel confident when new to area. We know it so were lucky. A map of the area would also be good as there is so much to see and do up there for outdoors it would help people know how far things are and what they might be missing as they just didnt know. Elgin museum is also a great place to visit - worth a visit.
Would Recommend: Yes
Owner Response:
Wow! Thank you for such a glowing feedback - Debbie and I are so pleased you enjoyed your stay and hope you will join us again in the future. I'm sorry about the WIFI and we are having it looked at again - it's been a real niggle. We've also picked up on your idea about the walking maps by collating as many leaflets and trail guides as we can, not only for walking but also cycle trails. These will be collated and a copy made available in each of the cottages. We're also intending to include some of these as downloads on our website, once we can work out how to do it. Thank you again Paul & Debbie
20th April 2014:

Another fantastic stay at Carden, I cannot fault the accommodation of the location. We will return again in the future.
Would Recommend: Yes
Owner Response:
Thank you so much for your feedback and it was great to have you stay with us. Debbie and Paul
30th March 2014:

Excellent, peaceful setting, close to local attractions.
Would Recommend: Yes
Owner Response:
Thank you so much for taking the time to provide feedback for Debbie and I and especially for being willing to recommend us to others. Hopefully we will see you again the next time you thing of visiting this area of Scotland and you'll give us the chance to lift a couple of those '4's up to '5's. Paul and Debbie
.